October 2022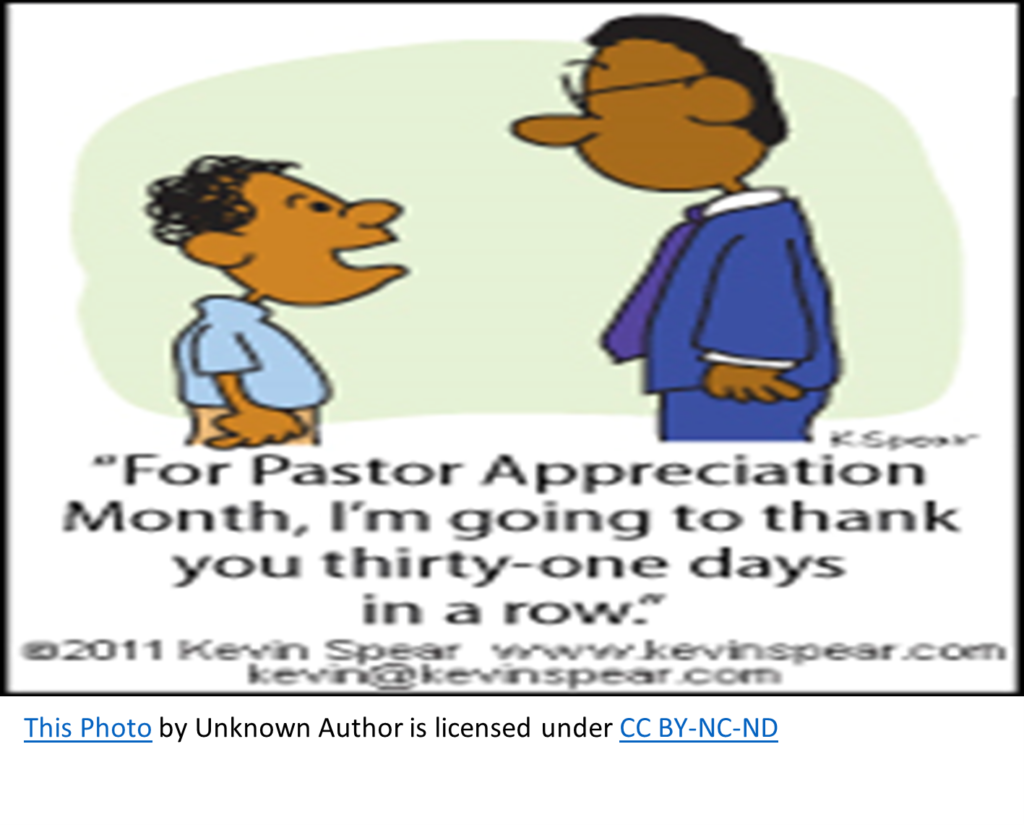 GOD'S MIRACLE CHURCH
1801 TACONY DRIVE
NORTH CHESTERFIELD, VA 23225
804-745-1484
SENIOR PASTORS: Pastor Rick Martin, Pastor Linda Martin
ASSOCIATE PASTORS: Pastor Tony Bassett, Pastor Mike Munford

THY WORD HAVE I HID IN MY HEART THAT I MIGHT NOT SIN AGAINST THEE. PSALM 119: 11 (KJV)


October is Pastor Appreciation Month
Let us keep our leaders in prayer


WORD OF INSPIRATION FROM THE DESK OF SISTER SHARON BASSETT
<PASTORS APPRECIATION MONTH>
Jeremiah 3:15 – And I will give you Pastors according to mine heart, which shall feed you with knowledge and understanding.
Acts 20:28 – Keep watch over yourselves and the entire flock of which the Holy Spirit has made you overseers.
Be shepherds of the church of God, which He purchased with His own Blood.
God gives Pastors the ability, the anointing, and the heart to love, lead, feed, and protect His people.
As we recognize and honor our GMC Pastors this month, we salute them for their unwavering commitment, faithfulness, dedication, and service.
Collectively, we say "Thank you for Feeding, Leading, and Loving us

Answers to Contradictory Proverbs
He who hesitates is lost
Don't beat your head against a brick wall.
Out of sight, out of mind
Don't cross the bridge until you come to it
Paddle your own canoe
Time waits for no man
You can't teach an old dog, new tricks.
Talk is cheap
Nice guys finish last
Clothes make the man
Silence is golden
3 strikes you're out
Joke for the Month
11 people on a Rope
Eleven people were hanging on a rope, under a helicopter.10 men and 1 woman, the rope was not strong enough to carry them all, so they decided that one had to leave, because otherwise, they were all going to fall. They weren't able to choose that person until the woman gave a very touching speech. She said that she would voluntarily let go of the rope because as a woman, she was used to giving up everything for her husband and kids or for men in general, and was used to always making sacrifices with little in return. As soon as she finishes her speech, all the men started clapping… ????
DID YOU KNOW THESE THINGS HAVE NAMES?
The space between your eyebrows is called a glabella
The way it smells after rain is called petrichor
The cry of a newborn baby is called a vagitus
Your tiny toe or finger is called a minimus
When you combine an exclamation mark with a question mark (like this?!), It is referred to as an interrobang.
The condition of finding it difficult to get out the bed in the morning is called dysania
The space between your nostril is called columella nasi
The day after tomorrow is called overmorrow.
The 'na na na' and the "la la la" which don't really have any meaning in the lyrics of a song are called vocables.
The dot over an "i" or "j" is called tittle.


Medical Notes by Nurse Sandy
Anyone with a chronic medical problem, call your utility company and request a"Medical Necessity Form". Have your PCP fill it out and fax it back to the utility company from the MD office. Make sure to ask for a copy for your records. You still need to pay your bill but you will have more leave way. When and if you lose, power you will be on the "priority" list to have your power restored. Some chronic conditions are 1) use of oxygen in the home as well as CPAP machines. 2) medication that needs to be refrigerated etc. 3) It depends on what your company calls medically necessary.
SPE Ministry-assisting God's people, Spiritually, Physically & Emotionally. Call on Elder Sandy at 804-337-6195
GMC HAPPENINGS
GOD'S MIRACLE CHURCH IS OPEN 7 DAYS A WEEK. COME BY AND FELLOWSHIP WITH US.
FIRST MONDAY OF EACH MONTH AT 9a.m. THE CHURCH WILL BE OPEN FOR PRAYER
EVERY MONDAY AT 10 a.m. COME AND PRAY WITH PASTOR MIKE
TUESDAY -FRIDAY, COUNSELING FROM 10AM TO 12 noon (PLEASE SEE SISTER LOUISE FOR AN APPOINTMENT)
CORPORATE PRAYER ON WEDNESDAY AT 7PM DIAL IN 1-312-757-3121 30857381#
INTERCESSORY PRAYER STARTS AT 7 a.m. ALL SATURDAYS EXCEPT the 4TH
GMC WELLNESS MEETS EVERY 1ST & 3RD SUNDAY AFTER MORNING WORSHIP
PRAISE TEAM REHEARSAL ON FRIDAYS AT 6:30 p.m.
SENIOR PRAISE TEAM REHEARSAL 3rd & 4TH SATURDAYS AT 10AM
SEE SISTER SHARON, VANESSA OR MIZ LOTTIE FOR FOOD PANTRY DAYS AND TIMES
MONDAY EVENING BIBLE STUDY WITH PASTOR TONY BEGINS AT 7 PM
WEDNESDAY MORNING PRAYER 9:30-11am
DANCE MINISTRY SEE MIZ LOTTIE
THURSDAY MORNING THUNDER AT 9AM SEE SISTER SHARON FOR INFORMATION
SUNDAY MORNING WORSHIP STARTS AT 10:00 AM